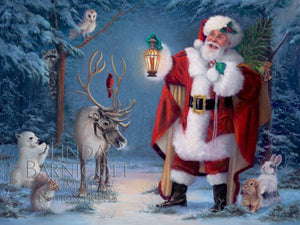 As legend goes, on Christmas Eve a miracle happens throughout the animal kingdom. Sometime during the wee hours of the morning, the animals are gifted, but only for a short time, with the ability to talk to each other.
It is an amazing site to behold.
Santa, on the other hand, can speak and understand all animals at any time, and he loves to bring them gifts. This year, his reindeer Prancer, who loves visiting his woodland friends, is happy Santa invited him to come along.
As Santa announces that he's brought treats for everyone, all the animals are filled with joy! It is truly a Christmas miracle that they are well fed and all living in peace on Christmas morning.
Image Size: 15″ x 20″
Edition limited to:
75 Artist proofs archival giclée prints