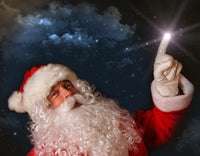 About Santa Claus
Santa Claus—otherwise known as Saint Nicholas or Kris Kringle— has a long history steeped in Christmas traditions. Today, he is thought of mainly as the jolly man in red who brings toys to good girls and boys on Christmas Eve, but his story stretches all the way back to the 3rd century, when Saint Nicholas walked the earth and became the patron saint of children. Find out more about the history of Santa Claus from his earliest origins to the shopping mall Santas of today, and discover how two New Yorkers–Clement Clark Moore and Thomas Nast–were major influences on the Santa Claus millions of children wait for each Christmas Eve.
"Santa's Newest Reindeer"
The painting, "Santa's Newest Reindeer" is a companion print to "Shhhh!". It is a smaller open edition print that you can add to your collection today.
Find out more
"Santa's Snowy Friends"
At Christmas time, snowmen have been known to come alive and Santa is all too familiar with the magic that creates it. It is the love, put into these creatures, that makes them real for all of us in our dreams at Christmas.
Click Here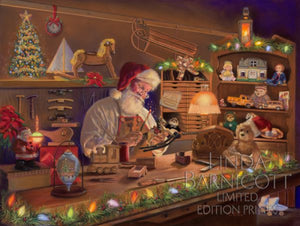 "Making Magic in Santa's Workshop"
In Linda's painting, "Making Magic in Santa's Workshop", we have a peek into Santa's workshop as he works late into the night finishing a special toy that will fulfill the Christmas wish of a special little girl. This is the second in Linda's "Jolly Old Elf" series.
More info
"Since I was a little girl, I remember how special my parents made our Christmas for us. I love Santa Claus and always wanted to share that love ... Santa's Secret Shoppe allows me to do that."

Dionne Malush
In modern folklore, Santa Claus is said to make lists of children throughout the world, categorizing them according to their behavior, and to deliver presents, including toys and candy, to all of the well-behaved children in the world, and coal to all the misbehaving children, on the night of Christmas Eve. He is said to accomplish this feat with the aid of his elves, who make the toys in his workshop at the North Pole, and his flying reindeer, who pull his sleigh.  He is commonly portrayed as living at the North Pole, and laughing in a way that sounds like "Ho Ho Ho".

Wikipedia
A benevolent figure of legend, associated with Saint Nicholas, supposed to bring gifts to children on Christmas Eve.

Dictionary.com
Established in 2020
There will never be a Year without a Santa Claus as long as we have anything to do with it. Santa loves us all and we love Santa!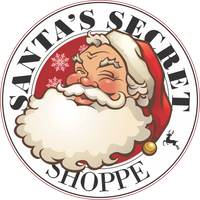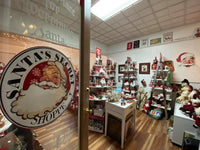 Visit our store in Monongahela
Our hours are:
WE ARE BY APPOINTMENT ONLY until we reopen in the Late Fall 2022. Text 724-554-3514 if you would like to make an appointment.
Address is
211 2nd Street, Monongahela, PA 15063